The Gibson Hummingbird, introduced to the world in 1960, is not just an acoustic guitar. It's a symbol of musical artistry, representing history, craftsmanship, and iconic design.
Musicians from the whole world have cherished this instrument for its unique design, excellent sound quality, and the impact it represents.
Unique Appearance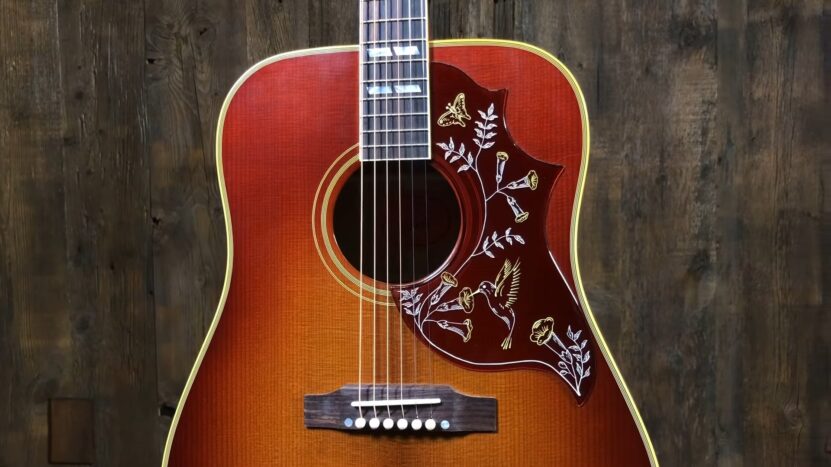 The Hummingbird's design is a perfect combination of classic and modern styles. Therefore, it is not a surprise that it can be easily recognized.
Ornate Pickguard
The guitar's pickguard is not just functional, it's a work of art. The detailed imagery of a hummingbird, gracefully hovering amidst delicate foliage, is both symbolic and charming.
This attractive design doesn't just give the guitar its name, but also tells a story, especially with its natural notes and symbols.
Body and Finish
The Hummingbird is crafted with a square-shoulder dreadnought body shape, offering not just an expansive sound but also an impressive visual profile. This design, when complemented by a palette of sunburst finishes, such as the Heritage Cherry or Honey Burst, adds layers of sophistication to its design.
Sound and Acoustics
While most people will recognize it for its appearance, it is the sound that makes this model so popular. Most musicians will say that this is the best classic guitar that you can find on the market.
Tone Woods
The blend of a solid Sitka spruce top with mahogany back and sides is a classic recipe for acoustic excellence. These tonewoods are responsible for the warm, deep, and resonant tone.
Each note is clear and distinct, ensuring that the guitar sounds as beautiful as it looks.
Versatility
Its sound is remarkably adaptive. Therefore, you can play various genres like rock, country, and folk, and the notes will remain perfectly suitable. It responds with grace to fingerpicking nuances and resonates powerfully with robust strumming.
Craftsmanship and Playability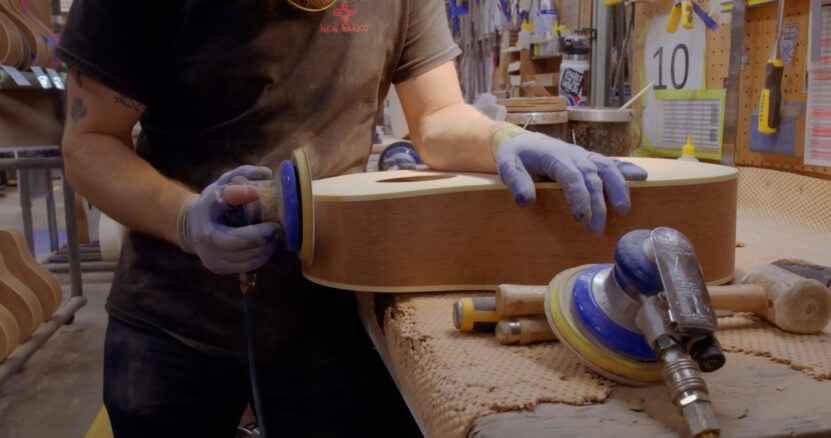 As we already mentioned, the appearance is not the most important characteristic. The design was specially made to make it more comfortable while holding the guitar.
Build Quality
Each model is a testament to Gibson's dedication to craftsmanship. Precision engineering, coupled with hand-finished details, ensures that this guitar isn't just durable but feels premium.
Whether in a studio or on a touring stage, it's built to serve a musician for a long time.
Neck and Fingerboard
The rosewood fingerboard is not just about the appearance. It offers smoothness praised by any musician.
The neck, with its ergonomically designed profile, makes playing for extended periods comfortable, making it a favorite for both beginners and professionals with more experience.
Historical and Cultural Impact
When it was first introduced in the 1960s, the Hummingbird immediately became a standard in the folk music scene. Its rich tonality and striking aesthetics made it the choice of many emerging artists, creating a ripple effect that would amplify its legacy.
But its influence didn't stop with folk. Rock 'n' roll icons, country legends, and singer-songwriters from diverse backgrounds all started to use it as a main instrument.
Iconic Players
Some of the most celebrated artists in music history have chosen the Hummingbird as their acoustic ally. Among them are Keith Richards, Sheryl Crow, Jimmy Page, Mick Jagger, Marcus Mumford, and many other famous names.
Investment Value
The Hummingbird represents the top level of guitar craftsmanship. With its specially chosen woods, precision engineering, and hand-finished details, this model is built to last.
Instruments of such caliber don't just serve their primary purpose of music-making, they also stand the test of time, and you can be sure that it will serve you for decades without issues. Another reason why this is the best choice for investors is that most models belong to a certain limited series.
In case you already own a model, you should check the serial number and other details because there are versions that are worth thousands and even millions of dollars.
Impact on Modern Guitar Design
Its blend of form and function has left an indelible mark on how guitars are made and perceived today. This shape offers not only a different aesthetic appeal but also improved tonal characteristics, making the sound more forward-projecting and resonant.
As music evolved and the need for amplified acoustics grew, the Hummingbird adapted. Gibson's implementations of pickup systems in such classic designs demonstrated that traditional instruments could evolve with modern demands.
FAQs
Where is the Gibson Hummingbird manufactured?
The Gibson Hummingbird is manufactured in the United States, with Gibson's main acoustic guitar facility located in Bozeman, Montana.
How does the Hummingbird's sound differ from other acoustic guitars?
The Hummingbird offers a balanced, warm sound with a clear midrange. Its square-shouldered dreadnought design contributes to a forward-projecting and resonant tone, making it versatile for various music styles.
Is the Gibson Hummingbird suitable for beginners?
While the Gibson Hummingbird is a professional-grade guitar with a corresponding price tag, its playability and rich sound can benefit players of all levels, including beginners. However, beginners might also consider more affordable options before investing in a high-end guitar like the Hummingbird.
How do I care for and maintain my Gibson Hummingbird?
It's essential to store the guitar in a stable environment, avoiding extreme temperatures and humidity levels. Regularly clean the guitar with a soft cloth and use guitar-specific products for deeper cleaning or conditioning. Additionally, it's advisable to get it periodically checked by a professional for any necessary adjustments or repairs.
Summary
Beyond its sound and appearance, the Hummingbird's true value lies in its rich legacy. Musicians from Keith Richards to Sheryl Crow have chosen it as their companion, securing its place in iconic performances and recordings.
This association with musical legends, coupled with its crafted excellence, makes the Hummingbird not just a guitar, but a piece of musical history. In essence, the Gibson Hummingbird is special because it represents the harmonious blend of artistry, history, and innovation, resonating through time and continuing to captivate musicians and audiences alike.
For content related to electric guitars check our article about Les Paul.